Round here in Guildford, it seems as though there haven't been many properly frosty, frozen mornings this winter. Perhaps they're on their way later than we've been expecting… The down-time of late winter brings a bit of a slower pace, which I enjoy more than I used to – I look forward to the return of the light, and the new growth in the garden. This is valuable replenishing time for people and plants alike! I wouldn't be able to do this job if I didn't think I was able to be useful to people, and so it gives me time to think about what I do and why, and to plan ways in which I can be productive and helpful through the year.
I used to think that there was little to be enjoyed through the winter, but – although they might not shout as loudly – there are plenty of quietly beautiful elements in the garden waiting to be found.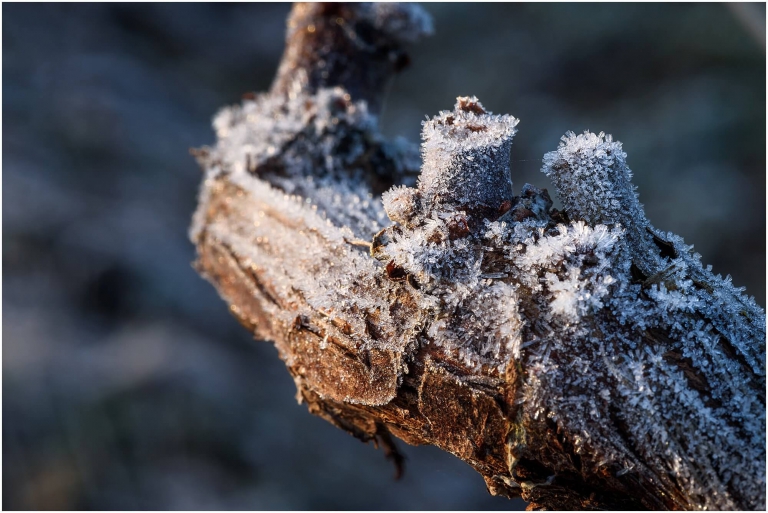 I was wandering around RHS Wisley Gardens when I spotted this hydrangea skeleton dripping with melted ice like the most beautiful chandelier… I am obsessed with it <3
A morning photographing around the gardens at Chilworth Manor found a few wintery delights too. I love the contrast of textures, light and dark in this picture.
The dormant vineyard at Chilworth Manor still has spectacular structure in the winter.
A viticultural demonstration to teach about checking for vine health.
(By the way, a flying visit north didn't yield any snow either – appropriately, a morning at the Baltic Centre for Contemporary Art in Gateshead offered fairly Baltic temperatures outdoors, though!).
I am a Guildford-based member of the Garden Media Guild and the Professional Garden Photographer's Association – if you're looking for a garden photographer to capture images for print, publication or media in the Surrey / Sussex / Hampshire area, please contact me here.