Venice had never really been on my list of must-visit places in the world. I knew plenty of people who'd been for an anniversary trip, but I didn't imagine myself onto a romantic gondola or sipping over-priced tourist coffee in Piazza S.Marco. What did appeal, though, was a photographic trip with 5 lovely friends from the UK and elsewhere in Europe, all female photographers and many of whom I'd only met online before I first visited Lisbon with them a couple of years ago. In our planning stages of Which-European-City-To-Visit-Next, it quickly emerged that Italy was a popular choice for end-of-September sunshine, and Venice was a source of inspiration that drew us in with its history, reflections, architecture and colourful character.
I don't know what Venice did to me, but when I saw it laid out before me for the first time, I cried. And several more times after that.
The six of us are aware that often in our photographic journey, we grow a bit creatively stale, needing to bounce ideas and try out techniques and take in new views that jump-start our inspiration again. The thing about Venice, though, is that it's so overwhelmingly glorious in real life (and boy, were we lucky with that late September light) that it's almost too much to take in, in 3-and-a-half days. My friend Rebecca and I agreed that we were being hard on ourselves; it would take a bit of soaking in first, that it was probably the weight of expectation from the dear, kind "can't wait to see your pictures" friends that made us feel under pressure to come up with something different, something to say through our photographs in a heavily-photographed city.
We had a perfect apartment via AirBnB, and it was the ideal base – from our generous hosts and local cafés onwards – to discover the real beating Venetian heart. I can't imagine having to take the acqua alta in your stride every winter; to have lived there all your life and face the prospect of ever-higher sea levels; to be overwhelmed by cruise-ship tourism and a daily visitor-resident ratio regularly way in excess of 27:1 – but defined by their perseverance, the Venetians take such a gentle pride in their city. I hope I've managed to show how I felt about it; to do some sort of justice to this most uniquely beautiful place.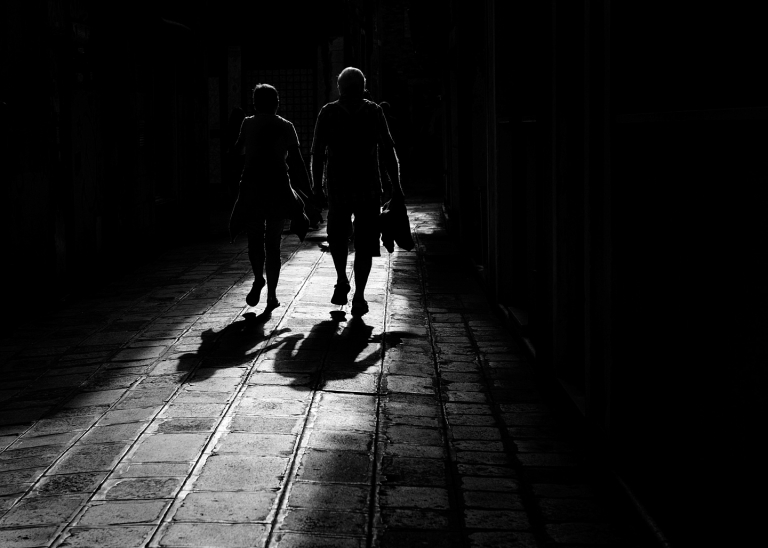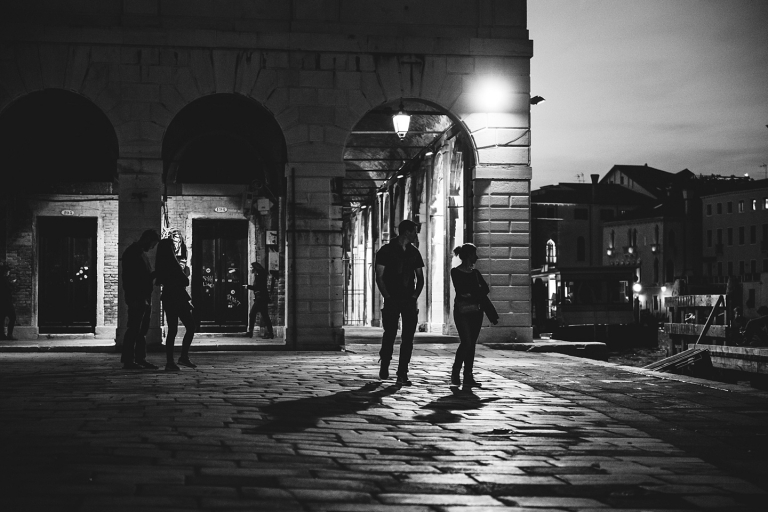 We had trouble with a Peeping Tom on the balcony! Haha!
The Jewish Ghetto: in the 16th century the ruling Venetian Council of Ten banished the Jewish community to the island quarter of Canareggio. Many of them worked at the iron foundry; the Italian for foundry is 'geto' and this is where our word 'ghetto' comes from. About 500 Jews still live in this area of Venice. There are two synagogues, a Jewish museum, art galleries and kosher bakeries amongst the streets of Canareggio.
Photo below by Ana…
A couple of people have asked how I took the photo below; truth is I was in a bit of a rush and had one shot at it, since we were waiting for our table to be ready in the restaurant to the left of the bridge, and they've just called us in – so technical peeps, here goes. My camera is set down at floor level on the stone bridge, peeking out below the level of the railings (my strap still round my wrist just in case!!). It's not on a massively narrow f/stop – like I said, our table was ready so I haven't time to hold the shutter open for ages; it's only f/5 and instead you can thank the 50mm lens for the starburst lights!  ISO 400, 1.6 seconds on the shutter, and captured a couple of stars in the night sky for good measure too. That's our apartment middle-right, yellow with green louvre shutters. What a special place!
Cat dress (£900!!!) in Dolce & Gabbana / cat model in the apartment garden…
We were taking photos of each other in the apartment windows since we had such lovely balconies. Unfortunately Anna and Rebecca didn't notice a funeral boat going past…!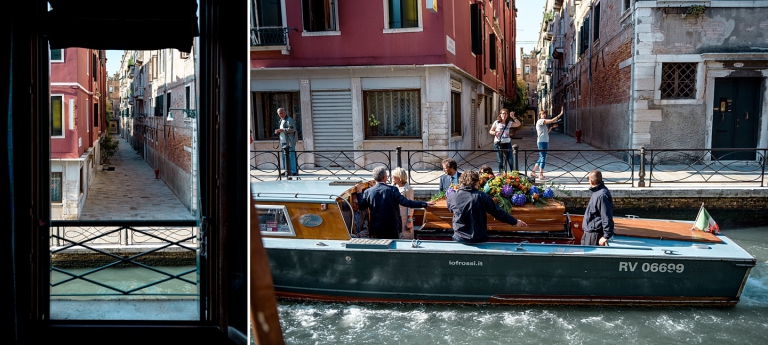 Took the vaporetto to the island of Burano, land of colour and lace, for the next bit:
Popular place to get married; here's the first wedding we spotted.
Burano is a hugely popular tourist destination but for us introverts, it's still possible to find little backstreets away from the crowds…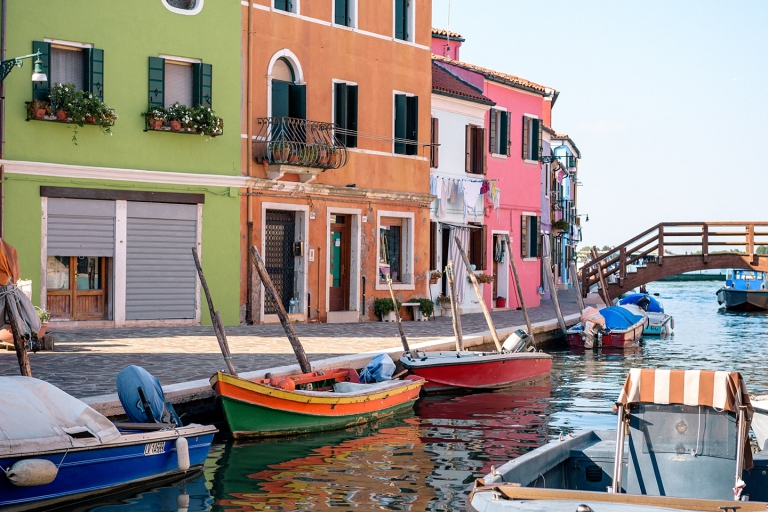 We found a colourful alleyway (hello overhead shade!) which was perfect for trying out some headshots.
I spotted the next wedding pair as they walked past all the colours of Italy, and that's something that pleased me a great deal…
We had such kind hosts in Elena and Francesco. Francesco is an artist and gifted us some prints of his work.
Early morning wanderings in Canareggio again.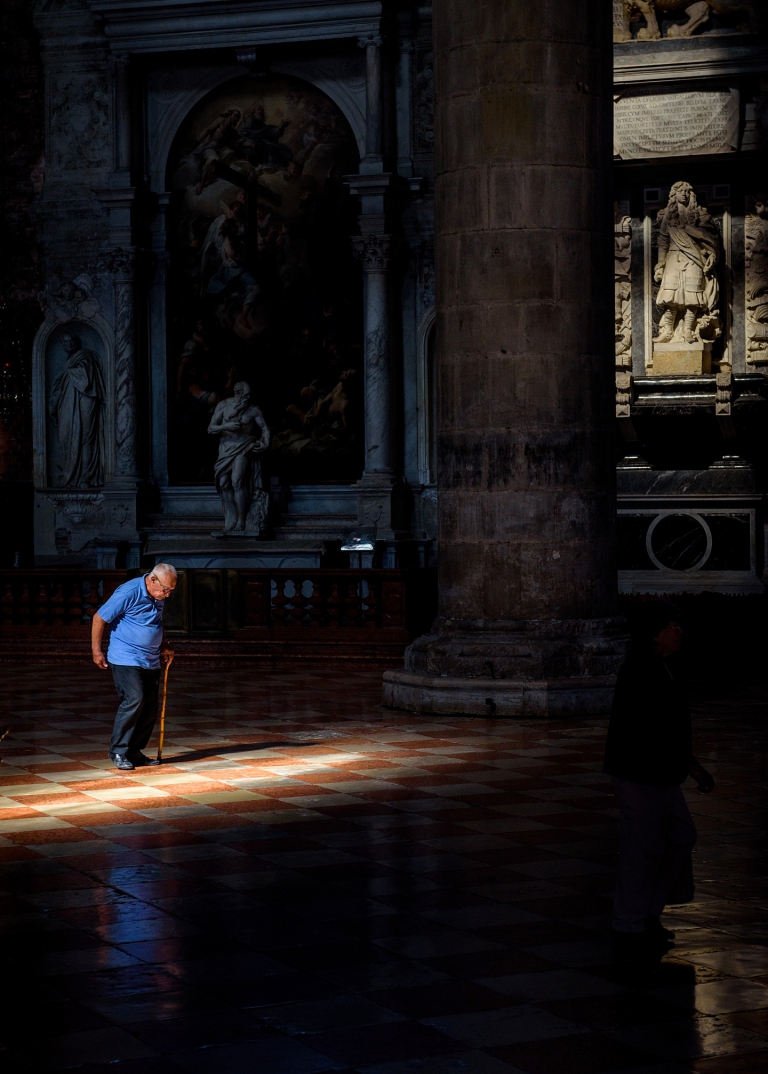 SaveSave
SaveSave