Have you been inspired this Spring to start growing your own fruit and vegetables? Many people have been discovering the delights of growing veggies from seed, and if there's one place that gave me the motivation to give it a go, it's here.
I visited River Cottage HQ at Park Farm, near Axminster, at the height of last summer with the Garden Media Guild. It was my second visit to the farm – the first was photographing a fantastic wedding several years ago now, and I remember being inspired then by the range of seasonal produce in the garden, being creatively turned into food dishes. There wasn't time on a wedding day to soak up the full extent of what happens in the gardens there, so it was wonderful to be back and guided around, and to take from that ideas that we could then transplant into our own outdoor spaces. It was certainly the launchpad for wanting to grow a lot more of my own food; I heard Raymond Blanc speak at the BBC Good Food show last summer, and he passionately pleaded for food to travel far less, to be grown without chemical intervention, to be eaten according to the seasons. It's the healthiest, tastiest approach to our diet, and River Cottage clearly demonstrate how to manage this really effectively.
Park Farm is set in the spectacular Axe Valley, giving a little shelter to its vegetable gardens. They work 65 acres of land and rent out another 35 acres to local farmers. At the time of visiting last summer, they managed 19 cattle, 30 hens and 6 pigs. The original 'River Cottage' became the Dorset home of Hugh Fearnley-Whittingstall some 20 years ago when he looked for a base outside of London and committed himself to a sustainable country life. Channel 4 took up the idea, broadcasting an initial series, which then moved to Park Farm, near the Devon/Dorset border, in 2005. It was a groundbreaking programme at the time, challenging and changing the eating habits of a great deal of people in the UK, campaigning for animal and fish welfare, and serving up menu ideas with integrity, sustainability and seasonality as a core belief.
As a group, we were given the warmest of welcomes to the farm, with an unexpected and completely delicious breakfast plate of poached egg (freshly collected 10 minutes beforehand!) on top of a homemade onion hash brown . The River Cottage recipe development is done here at HQ, with a range of recipe books published, as well as running established restaurants in Axminster, Bristol and Winchester. In fact, you'll find a whole load of seasonal recipe inspiration at their website – look here.
Kohlrabi and other pickling ingredients, ready for our cookery demo.
We were served this refreshing fresh fruit cordial along with the blackcurrants and herbs that we'd just seen being harvested from the garden.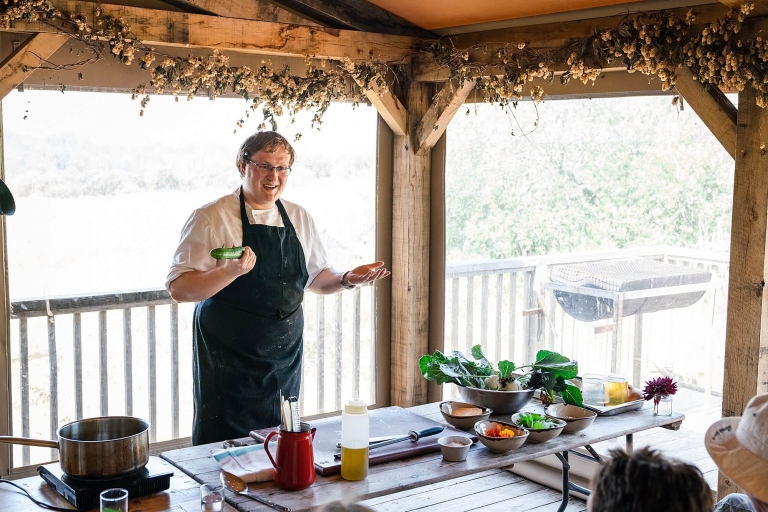 One of the River Cottage chefs, Richard, demonstrated an idea for pickling cucumber slices, with aromats of turmeric, celery seeds and some Dijon mustard seeds added alongside garlic and onion.
Would you even know what to do with a kohlrabi?! I'd never seen one before so I didn't have a clue, it looks like an anaemic alien beetroot. But, his carpaccio of kohlrabi with a dressing of nasturtium pesto and Old Winchester cheese was eye-openingly delicious.
I couldn't resist adding in a couple of pictures of my previous visit to River Cottage HQ – early September and you can spot slight seasonal changes in the garden produce and flowers.
River Cottage has its own excellent range of themed cookery books at the farm, as well as a kitchen/deli shop in the centre of Axminster itself.
I must mention that I stayed over night at next-door Trill Farm Orchard, in their fabulous Shepherd's Hut. What a perfect retreat, and absolute peace. I could have stayed there for a very long time! It's a couple of fields away from River Cottage and the two farms work closely together, with Trill providing organic fruit and veg to Park Farm so that a day's menu for guests can be based on the garden produce that they have available. Highly recommended, so do keep a look out for when bookings reopen.