Last month I took a trip to the Orkney Folk Festival with my violin-playing eldest, for a musical long weekend. Orkney is somewhere I first visited as an 11-year old on a school trip – we ate a lot of Smash instant mashed potato and somehow managed to get sunburnt off the north coast of Scotland… There was no Smash this time and definitely not any sunburn weather, but my goodness it was memorable.
Orkney Folk Festival is in its 37th year and has gone from strength to strength – I first stumbled into a gig there many years ago, and since then the committee have managed to attract world-class acts from across the globe, performing at multiple venues throughout the islands. Stromness, though, is really the home of the Folk Festival, with the town hall and community centre hosting a great number of events over the four days.
I like the upstairs window here displaying what my family would refer to as a pair of 'wally dugs'…
The pubs of Stromness buzz with music every day as bands and instrumentalists host sessions for all-comers to join in.
The community centre was transformed completely into an atmospheric club with table service and a bar menu that included amazing homemade pies, special Kirkjuvagr 'Orkney Foy' Folk Festival gin, and local ale.
Robin Barr (below) was a violin tutor, who – to mark his 70th year – embarked on climbing 7 Orkney hills and composing 7 fiddle tunes to play on each of the summits.
The 'Between Islands' collaboration showcased music from the Western Isles, Orkney and Shetland, to present their common heritage as well as their unique differences.
My fiddle-playing daughter (left) was able to hire an instrument thanks to the fantastic Reel Life Foundation in Kirkwall, and was thrilled to be able to join in on a session with Dermot Byrne, Éamonn Coyne and John Doyle…
…as well as Sunday's Fiddler's Rally at Stromness Academy.
Some images of capital Kirkwall's 12th century St Magnus Cathedral. It is awe-inspiring – striped layers of red and yellow sandstone that have stood through hundreds of years. Founded as a resting place for the relics of St Magnus, and at that point under the Norwegian archbishop of Trondheim, the Norwegian connection is strong. My family tree traces ancestors who had settled in Orkney from Norway, so this historical richness of Orkney is fascinating to me.
The Folk Festival really does offer a welcome to all – not just to listen, but to participate. This community choir had downloaded music online to learn at home, and met together for the first time on the morning of the day that they performed several times for the public. Here's their first set of songs outside the Stromness Museum.
Experimental trio Lau create their music not just with traditional instruments and voice, but with 'Morag' the sound machine which is programmed – by all three – to deliver the sort of other-worldly accompaniment that makes their gigs stand out.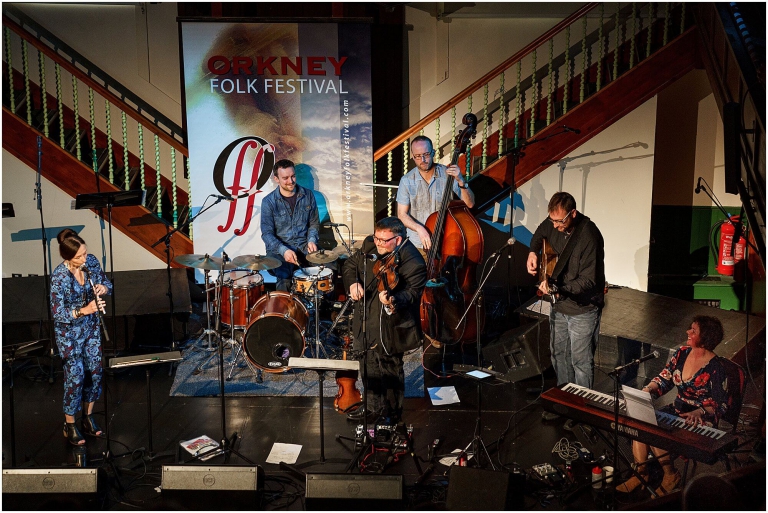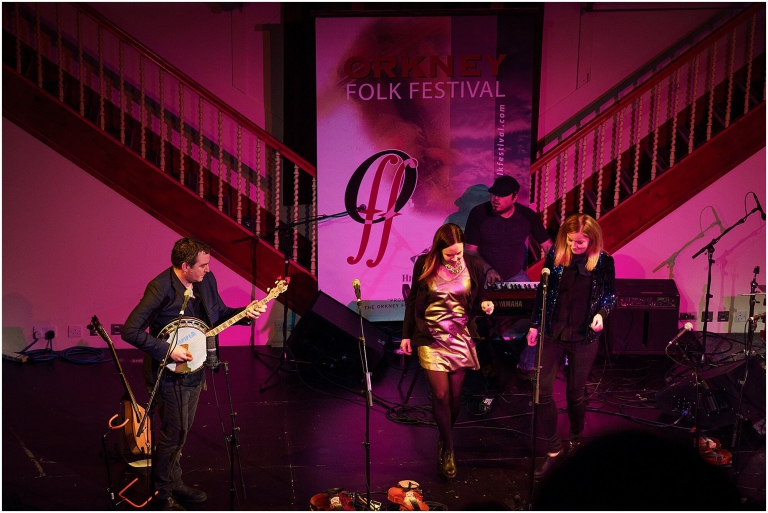 Before we left, we had a spare morning to pay a visit to the neolithic village of Skara Brae – uncovered from the grassy dunes during a storm in 1850, and so beautifully preserved due to the stone (rather than wooden) construction.
Another historical site that fascinates me is the chapel built by Italian POWs during the Second World War, when they were constructing sea barriers as part of the naval defence. The construction workers, housed in Nissen huts here, had more freedom than many prisoners and were paid for their labour. They requested a place to worship, and were granted permission to construct it themselves, from the materials that were available to them and the skills they had. The resulting church, from scavenged materials and with intricate paintwork, is testament to both their faith and their artistry.
Sunrise over Stromness Harbour and the hills of Hoy from our accommodation, on the morning of packing up to leave.
And home via a stopover at the best city in the world – do you recognise it, its most famous landmark reflected in the window of my favourite gelato shop?!