I suspect that most of you who love the outdoors and getting into the garden are enjoying the signs of Spring and the prospect of British Summer Time right now! The garden season ahead looks set to be a really exciting one. Recently I attended the Garden Press Event in Islington, where businesses are able to present their new-to-the-market gardening products and inspire enthusiasm for the busy year ahead. I met with a number of the Garden Media Guild members to have a look around the products and ideas on offer, and to chat to the people behind them.
Sunday 12 May is a date to set aside to celebrate Garden Day! Why not put together a floral crown and enjoy tea & cake in the garden with friends? These are the people behind the scheme, and also the app Candide, which is like an Instagram-style knowledge-base to share your garden photos, identify plants, and to ask questions or find solutions to gardening problems from other users. Download it for free on your phone or tablet from the App Store.
These parcel-in-the-post subscription boxes from Mud & Bloom are suitable for 3-8 year olds (Key Stage 1 – I used to teach this age, and the boxes are pitched perfectly!). Each box has some seasonal activities including gardening, craft, and garden quizzes, all designed to help children understand the growth cycle and seasonal changes. They start at £7.95 per box including free shipping, and I fully support their ethos of encouraging children to enjoy the outdoors, for the sake of their wellbeing and to have that thrill of having a hand in the raising of plants.
There was a buzz around the pretty stand of Dalefoot Composts all day – based in the Eden Valley, Cumbria (which I know well), they produce organic wool and bracken based composts that retain moisture and encourage healthy crops. I'm currently raising some tomato seeds in the wool compost pots they gave me! There was a strong emphasis at this year's show on organic solutions, as well as mental health and wellbeing benefits of getting out in the garden – keep reading below to find more announcements in this area… I must also mention Strulch who produce a mineralised straw mulch suitable for deterring slugs and snails (you might know this is my ongoing battle). I'm trialling their mulch which is also used at RHS Wisley, the Eden Project, and Alnwick Castle Gardens amongst others – so far, so successful!
I visited Hever Castle for their 'Dazzling Daffodils' displays, and although the weather decided to be grey on that particular week, the daffodils were bringing their own ray of sunshine to the gardens.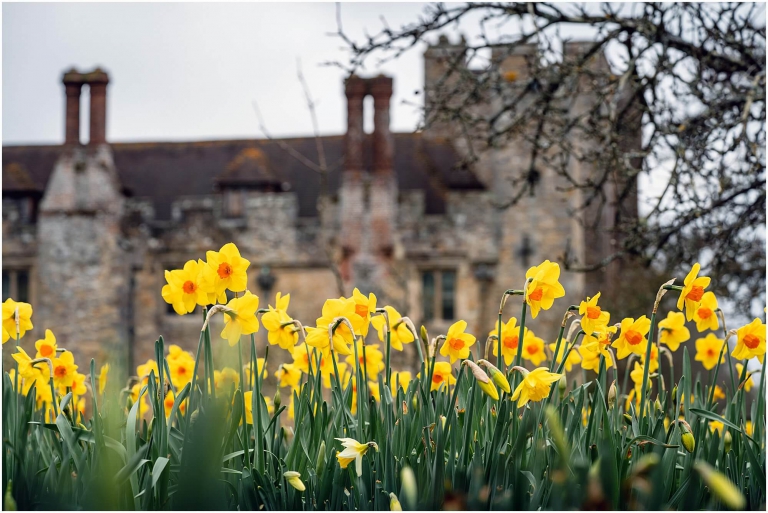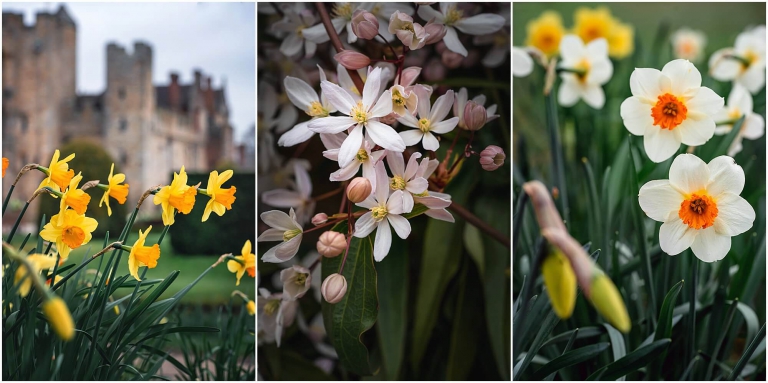 Plus, how beautiful is this Clematis armandii 'Apple Blossom'?!
This week, the National Garden Scheme launched their yellow bible, the Open Gardens Handbook for 2019. At the Press Launch in London's Royal Festival Hall, guests were addressed by Lord Gardiner – of DEFRA – and Mary Berry, President of the NGS, while Chief Executive George Plumptre announced donations to charities totalling £3m over the past year. The NGS guest charity for 2019 will be MIND, aiding those with mental health struggles, and one slide showed a comment from a garden visitor that "visiting different gardens really helps boost my mood…not just the time that I'm at a garden but for several days after". During the week of 11 – 19 May this year, the Gardens & Health Campaign will emphasise the importance of garden visiting as an act of self care, demonstrating the positive impact on our wellbeing of visiting, and being inspired by, the outdoors.
The NGS will have 3,552 gardens open for visitors this year – 759 of which are new, or returning after some time. 34 of the open gardens will be allotments – something I'm really interested in as I aim to get my own dedicated vegetable garden up and running this year. 9 of the available places to visit are school gardens, and 14 are hospice gardens. There really is something for everyone, on top of which you'll often find tea & cake being served and plants on sale. Do take a look at the NGS website and plan visits through all seasons of interest – you'll be contributing to a considerable charitable fund for the coming year.
Also announced was a £75,000 donation and 10-year support plan for Horatio's Garden, who design and create the most beautiful accessible garden spaces for NHS spinal injury units. The idea of the garden as a therapeutic space was never far from anyone's mind at the media launch for open gardens this year, and I hope that you'll find joy in visiting one of these places in 2019. Here are Julia Palca, Chair of Macmillan Cancer Support, Martin McMillan OBE, Chair of NGS, and Dr Olivia Chapple, co-founder of Horatio's Garden – the scheme is named in memory of her son.