As it's a quieter season at the moment, I'm enjoying looking back on some of the work I've been doing in the last few months. One of the events that I was invited to photograph was the National Garden Scheme's main fundraising evening of the year – 'Music in the Garden' – a midsummer's garden party and charity auction near Newbury, Berkshire. The venue was generously shared by the owners of the private gardens at Hazelby House, and over 700 people purchased tickets to attend.
The evening was opened by the charity's president, Mary Berry, with music from the East Woodhay Silver Band as well as soul singer Natasha Watts. Visitors were free to explore the gardens at their leisure – these extensive 12-acre grounds, created in the 1970s by Martin Lane-Fox, are now managed by just two gardeners, and were such an immaculate representation of an English country garden at the height of summer! The 15 garden rooms, divided by clipped yew, beech, hornbeam and box, each have a different feel to them – I particularly enjoyed the newer addition of a sculpture garden, with 4 David Harber creations designed to represent the elements of earth, air, fire and water. There was also an exciting charity auction hosted by Nick Bonham, with 34 lots (plus online bidders) bringing the total raised for the evening to very nearly £90,000.
It really was the most perfect weather, as the sun set on the longest day over the boating lake, bringing its last and best golden light to round off the evening. It was such a pleasure to record the event and to explore such a remarkable garden – do have a look and enjoy some of the selection of pictures below.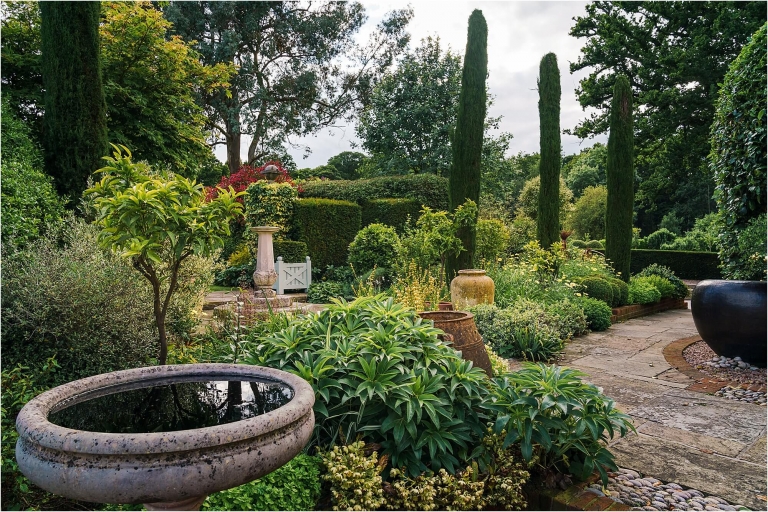 I am a Surrey-based professional garden photographer and member of the Garden Media Guild, available for commissions and collaborations throughout the UK.