Edinburgh is my home town – born there, spent most of my school years there, rarely have a chance to visit these days. I think that when you live somewhere, it's hard to see past the daily life of getting things done, to be able to view it with artistic, creative eyes. I know for sure that I didn't appreciate Edinburgh's beauty and grit in the way that I do now. After much deliberation amongst my group of photographer friends, who opt for a different European city break each end-of-September, I was thrilled when they decided upon Edinburgh. We spent some time researching accommodation – which isn't so easy when you're looking for individual beds for 8 people! – but we struck gold with the artist-owned AirBnB in Leith. Tucked away upstairs down a side street, our huge flat was an inspiring place to stay; only minutes' walk from the cafés and bars of The Shore, as well as having bus stops to take us right into the city centre. We didn't know at the time but our flightpaths took us right over the flat where we'd spend the weekend, as we came in to land over the sunshine on Leith.
These annual weekends away are as much about food, wine and good friends as they are about photography. We'd found The Roseleaf café-bar with excellent Trip Advisor reviews, and only a couple of minutes away, so headed there for our first evening meal. I can highly recommend its warm welcome and quirky Mad Hatter-style decor – cocktails in teapots and teacups; the menus hidden inside vintage copies of National Geographic!

Being right by The Shore meant breakfasts at Mimi's Bakehouse – what a find. We loved it so much we went there every day! It has great windows for watching the local area spring to life in the morning.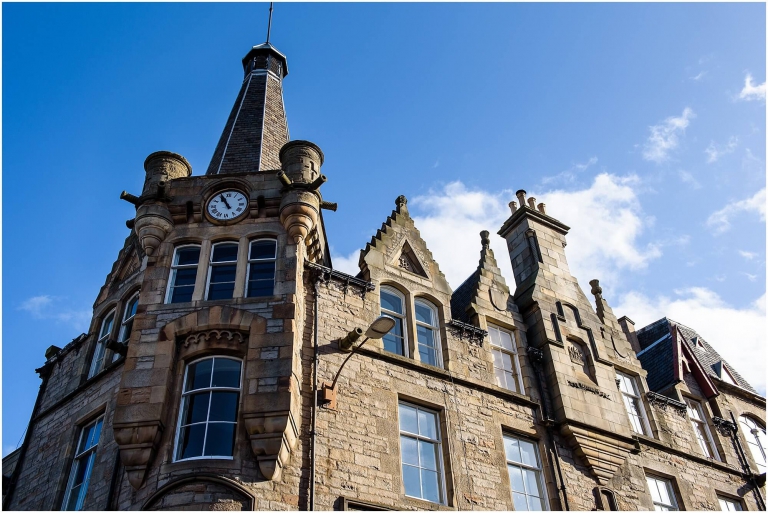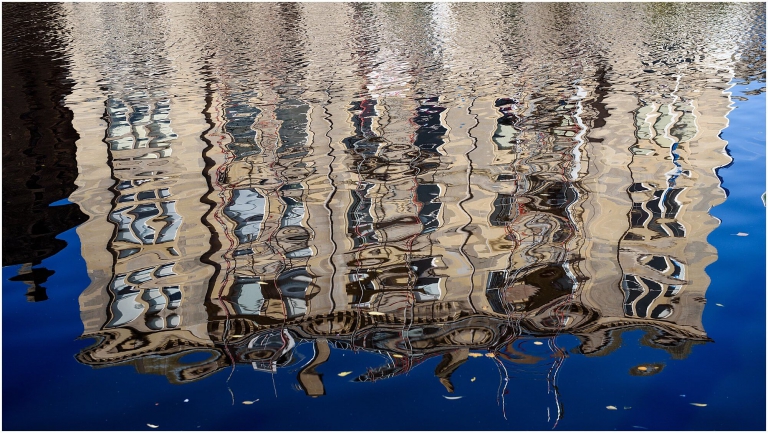 Our first full day was an exploration of Edinburgh's Old Town – so after a bus to the Mound, we walked up to the castle and spent a day of discovery all the way down the Royal Mile to Holyrood and the Scottish parliament. Below right you can see my old school – Heriots, now known to be JK Rowling's inspiration for Hogwarts (not too dissimilar a name, and as the teachers all waft around in their black gowns, and she wrote in cafés round the corner, and took character names from gravestones at the church next door, it doesn't surprise me!). I'm happy to be a Muggle.
There are so many closes and alleyways and courtyards along the length of the Royal Mile, that it was really worth having a full day to explore and photograph at leisure.
Below is Dunbar's Close Garden, a little oasis of calm that hardly anyone knows is there.
White Horse Close, tucked away off Canongate, was a run-down area until it was heavily restored in the 1960s.
It's fair to say that we were really quite taken with the Scottish Parliament building. I wonder if the employees are as inspired by it as we were? The collections of poetry and quotes on its walls are worth spending some time looking through.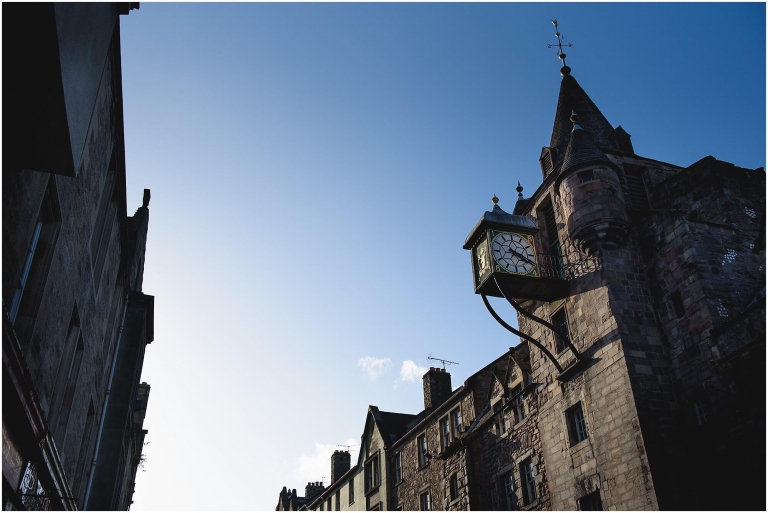 I remember as a child doing a quiz that asked you to find certain things along the Royal Mile. The sculpted lintel at Heave Awa Hoose was something that I recall made an impression on me. It reads 'Heave awa' chaps, I'm no dead yet'. In November 1861, two crumbling 250-year old houses collapsed leaving 35 residents dead. As work began to clear the debris, this boy was heard calling. He actually shouted 'lads' but it was changed to 'chaps' so that Victorian tourists from England would understand it. Joseph McIvor was the only survivor of this tragedy of overcrowding and inadequate living conditions, which prompted a public outcry. The rich had long left these rundown areas for the open spaces and wide streets of Edinburgh's New Town, with no investments being made to maintain the old tenements.
Poor wee Greyfriars Bobby – I had to put this picture into black & white because his rubbed-off golden nose upsets me! This has only happened in the last few years, while the drinking fountain statue has stood since 1873. Don't rub Bobby's nose! On this evening we'd just had a very fine meal at The Wee Restaurant, Frederick Street – highly recommended for authentic, non-fussy and tasty British food – then made our way up to Sandy Bell's bar for some lively trad music (it was heaving in there!).
Our flat had fabulous window light and an unplastered, textured wall that we all loved. Perfect for some headshots.
Our second full day began with a walk down The Vennel to the Grassmarket (hello, Mary's Milk Bar, best ice cream ever anywhere) and then heading up to the New Town for some different streets and architecture.

We were caught in some rain showers but it gave us some very pretty light by the time we got to Circus Lane. Here is Julia in the frame.
It was worth bringing a travel tripod for this picture!
The Georgian Royal Circus is breathtaking – what a beautiful place to live.
We finished our day's trekking by heading up Calton Hill with the rest of the tourists, to watch the sun set over the city.
Leith has changed so much in recent years and was a perfect venue for our weekend away. I hope I'll be back in Edinburgh before too long. To my friends – thanks for being such wonderful company!