Earlier this month I visited the Hampton Court flower show, which reminded me of the time I won some tickets to the show – along with a rather nice goody bag – entering a recipe competition in Good Housekeeping magazine. If you remember the perfume Anaïs Anaïs, they wanted recipes that captured the main fragrance notes of blackcurrant, orange and rose. Blackcurrants are in abundance in our garden right now so it was a good time to dig out the recipe (which daughter #1 says is one of her favourites of my bakes).
If you have fresh blackcurrants to use – rather than tinned, as suggested in the recipe – you'll need to gently stew them first. Rinse around 400g of blackcurrants, making sure you've removed any stalks, then pop them into a large stainless steel pan with about 3 tablespoons of caster sugar and about the same tablespoons of water. Bring to the boil – keep an eye on them, don't let them burn – then lower the heat and stew for 5 or so minutes until the skins are popping and they start to release juice. Set aside to cool. Meanwhile, here are some blackcurrants being picked in the kitchen garden of River Cottage HQ this week: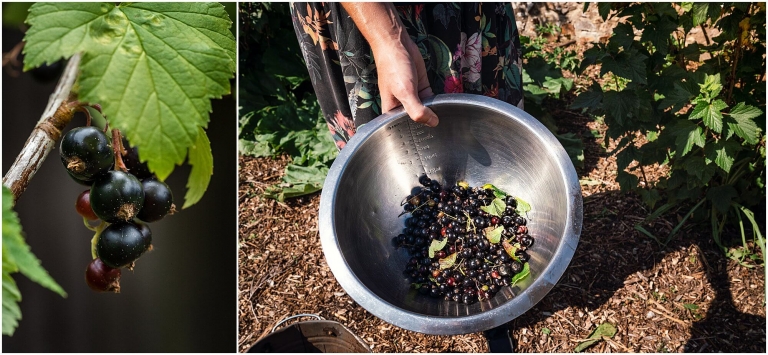 Tarte aux Cassis
For the pastry:
115g (4 oz) plain flour
70g (2 1/2 oz) butter
40g (1 1/2 oz) caster sugar
zest of 1 orange
1 egg yolk
For the filling:
400g blackcurrant fruit filling (tinned or freshly stewed)
115g (4 oz) butter
115g (4 oz) light brown sugar
115g (4 oz) ground almonds
1 tsp either rosewater or orange essence
2 large eggs, lightly beaten
icing sugar, to dust
8″ loose-bottomed flan case, greased lightly
Preheat oven to 160C
To make the pastry, put butter, flour, caster sugar and orange zest into a large bowl and beat together (I use my Kitchen Aid).
Add the egg yolk, mixing again to bind the pastry together. Leave the dough to rest in the fridge for half an hour.
Lightly flour the work surface and roll the pastry out to fit the greased flan tin.**Confession: I find very short pastry pretty tricky to work in summer, so actually there's no harm in adding your pastry dough to the tin and then pressing it in with the back of a large metal spoon – still use a bit of flour to stop it sticking. It saves having to patch lots of holes in your rolled pastry and, as long as you've lightly greased into the fluted edges of a loose-bottomed tin, you'll have no trouble getting it out afterwards**
Trim the pastry, use baking beans if you have them, and bake blind for 10 minutes at 160C.
When you have removed the pastry case from the oven, fill with the blackcurrant filling.
For the topping, melt the butter in a small saucepan. Stir in the brown sugar, ground almonds and your choice of flavouring (my original recipe stated rosewater, but the flavour may be too delicate to hold against the blackcurrants. Try orange essence if you'd rather, or maybe save the rosewater and mix with some good crème fraîche when it's ready to serve). Add the lightly beaten eggs and mix well. Pour the almond mixture over the blackcurrants. Aim to seal the fruit filling inside completely.
Bake for 25 minutes at 160C, or until golden and risen.
Allow to cool before removing from the baking tin. Serve dusted with icing sugar and some crème fraîche.