One of my favourite outings in the autumn was to meet up with Garden Media Guild members to be shown around the Sir Harold Hillier Gardens near Romsey. It was my first time meeting fellow Guild folks in person, and we were rewarded with the sort of couldn't-be-more-perfect weather that October likes to pull out of the bag on occasion. On top of that, our guides for the day were David Jewell – Head of Collections – and the warm and funny garden encyclopaedia that is Roy Lancaster CBE – patron of the gardens, former curator, passionate plantsman, and with a story for every plant that we stopped to look at.
We spent a good amount of time at the Centenary Border, where many species that had once been collected and trialled at the Hiller Nurseries now grow. The wide central lawn has had the addition of paving so that it's now fully accessible for wheelchair users. The variety of grasses – especially viewed in autumn sunshine – drew everyone's attention. I'm keen to visit again in the depths of January to see the Winter Gardens; David's enthusiasm for this area, particularly when you're looking for interest and colour in the winter months, means that I'm looking forward to some more garden inspiration in the new year.
The Sir Harold Hillier gardens cover 180 acres with over 12,00 species of plants, and many plans for further conservation and educational schemes. The wonderful arboretum is a joy to wander around. The Japanese practice of 'forest-bathing' – shinrin-yoku – is worth bearing in mind if you need to reduce stress hormones, strengthen your mental wellbeing, reboot and breathe deeply. When did a bit a nature therapy not do you the world of good? This might just be the place you're looking for!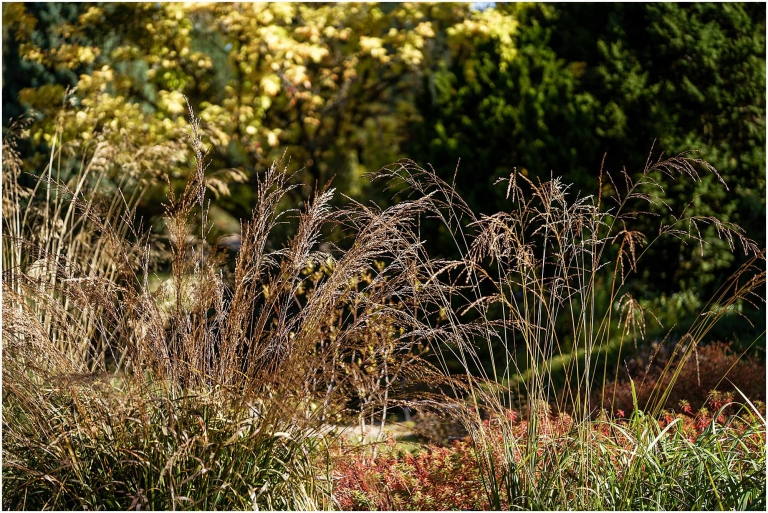 You can view my profile with the Professional Garden Photographers Association, as a Surrey garden photographer, here: PGPA Julie Skelton.
Opening your garden with the National Garden Scheme in 2019? I'd love to come and document your preparations in pictures – do get in touch!