Back in March, faced with the prospect of (i) an indeterminate amount of time without photographic commissions or garden visits on the horizon, and (ii) the rest of the family in various rooms of the house for the foreseeable future, I retreated to the garden. Like many people, it was the first occasion in a long while that I'd had time to dedicate to giving it a proper tidy-up and to start something fresh out there. I'd often neglected to keep on top of garden jobs, mostly due to worrying about stretching myself too thin and not having the oomph to then carry out photography jobs with the energy that was required. I don't have any 'before' photos of my own patch because it wasn't worth looking at, no-one enjoyed it as an outdoor space, and the truth is that I just didn't take any.
Shortly before the instruction to 'Stay at home', we'd made a dash to the garden centre for vegetable seeds and came home with a small poly tunnel. Being able to raise plants from seed, properly, for the first time, has given my mind something to focus on – noticing daily the small changes in the development and growth of these little plants has been such a source of encouragement. Many people this Spring have discovered the mental health benefits of being immersed in nature, getting outdoors, or nurturing their own plants from seed. Thank goodness for the many online retailers who battled on to post out mail order requests for compost, seeds and plug plants. We couldn't have done it without you! I'll pick three of my favourites for a special mention – Dalefoot Composts, based in an area of Cumbria we know and love, provide compost enriched with moisture-retentive bracken and sheep's wool and it is The Best; Pepperpot Herbs, who would usually be spotted at Guildford Farmers' Market amongst others, rose to the challenge of posting out mountains of joy-bringing packages of the most beautiful herb plants; and Bluebell Cottage Gardens, who send their plants with an option to go plastic-free, in which case you receive totally happy plants in moist compost and a biodegradable waxed paper wrapping. *Gives a round of applause*. Scroll to the bottom and I'll try to link some more suppliers that I've been delighted with.
There is still so much I want to do in my own garden; there's way too much lawn but I'm not a designer and I'm getting stuck trying to envisage it with different options for beds and paths. I'm incredibly grateful for the ah-may-zing weather in May that had me outside practically all day, every day (when I wasn't manhandling sourdough – don't @ me). But for now, amazingly, almost everything is thriving (*squints at the dead cauliflowers, darn those grey aphids and the 'insect-proof netting'*) plus we've had an array of food going from soil to plate in a matter of minutes. And whatever way you look at it, I don't think you can get better flavour than seasonal, ultra-fresh crops that you've grown yourself.
Right, so what shall we look at first? Here's the new growth of the 3 months in Spring… Hosta 'Halcyon' and Athyrium filix–femina 'Dre's Dagger' in my favourite shady corner.
Life-cycle of the peas. Grew so many and it would still never be enough – love them.
Salvia greggii 'Icing Sugar'
Salvias 'La Luna' and 'Icing Sugar'
Unidentified – and mysteriously, once, pink-streaked – rose which I now believe to be a 'Graham Thomas'.
Blueberries in blossom and ripening.
One word: nematodes…
Newly planted Clematis montana var. wilsonii, and – newly-released at the virtual Chelsea Flower Show – David Austin rose 'The Country Parson'
Astrantia major 'Claret'
Biodegradable waxed paper wrapping from Bluebell Cottage Gardens
Lettuce 'Salad Bowl Mixed' and chilli pepper 'Cayenne' emerging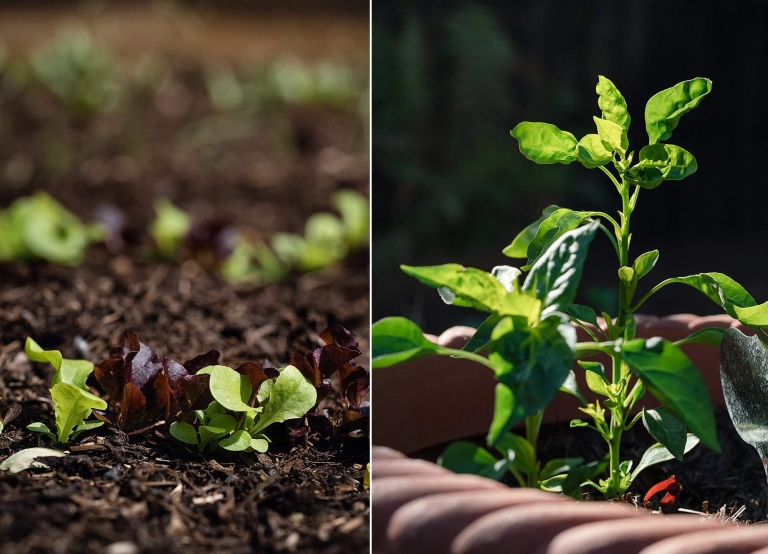 Also planted a cat.
Salvias 'Nachtvlinder', 'Icing Sugar' 'La Luna', plus French marjoram. The La Luna is from a plant sale at the open garden of Mary Caroe – Vann, near Godalming in Surrey. Mary died in April but had opened her garden under the National Garden Scheme for an incredible 50 years, and this cutting from the selection available feels like a part of her legacy in my own garden.
Unidentified aquilegia, let me know if you recognise it…
Also made elderflower cordial – one of my favourite flavours but hadn't tried making my own before
I'll continue with some more photos in Chapter Two soon. As promised, here are some more, most excellent, independent online suppliers who I've used. They went above & beyond – I've been very impressed and would highly recommend:
Higgledy Garden for awesome flower seeds
Middleton Nurseries – Salvia specialists